Sea Snail First Seen in the U.S. May Have Arrived as a 'Stowaway'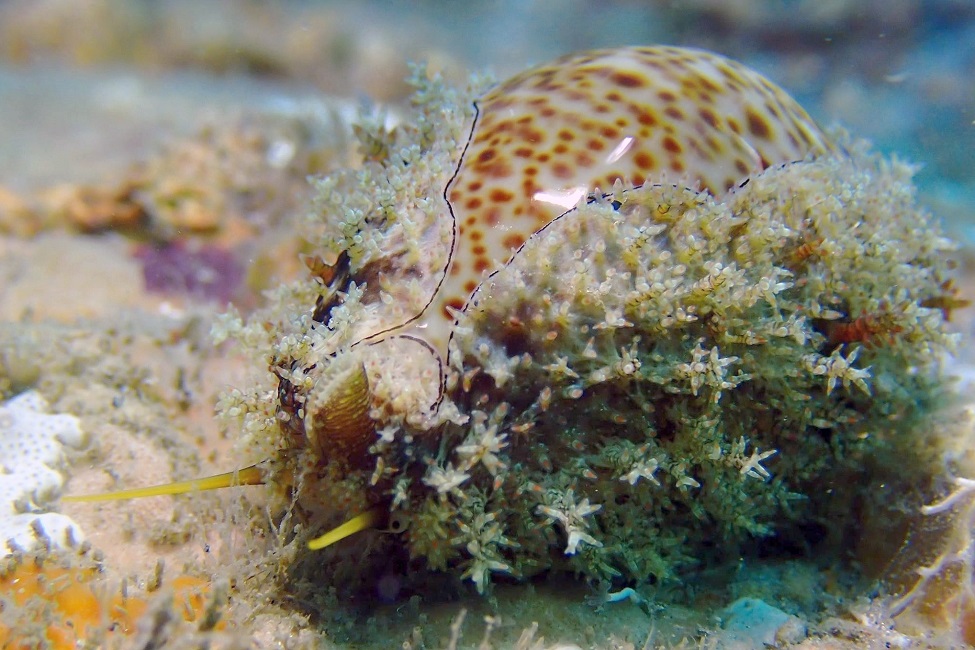 The sea snail, Naria turdus, in Florida (Photo credit: Nuch Uthairat)
---
A sea snail (Naria turdus) with a natural range in the Eastern Indian Ocean and the Red Sea, appeared in the greater Caribbean region in Aruba in 2020. Now, this species has made its way to Florida's coastal waters. This is the first report, published in The Nautilus , of Naria turdus in coastal waters in the United States. 
The non-indigenous sea snail was found and photographed (Nuch Uthairat) on Dec. 24, 2022, underwater in Palm Beach County's Lake Worth Lagoon near Phil Foster Park in Riviera Beach. Given the estimated time of the first introduction to the island of Aruba and assuming the range expansion occurred without further introduction events along the "route," it took the sea snail about two years to reach South Florida. 
Florida Atlantic University's Anton Oleinik, Ph.D., senior author and an associate professor of geology in the Charles E. Schmidt College of Science, suspects it got here as a "stowaway" on a cargo ship in the Port of Palm Beach, a full-service marine port offering a variety of cargo and cruise services. The uninvited passenger, which was quite large (2-inches-by-1-inch long) and most likely an adult, may have attached itself to the hull of a vessel as larva.
"The introduction of Naria turdus in the Western Atlantic and Florida's coastal waterways raises a number of questions about this particular species," said Oleinik. "The key question is what exactly made this sea snail, among many other similar species, so successful in expanding its natural biogeographic range halfway around the world and securing a firm foothold in the Western Atlantic and Florida's Southeast Coast? Its history of invasions and apparent adaptability makes us wonder where it will show up next."
Naria turdus is a benthic gastropod of the family Cypraeidae, better known as cowries or cowrie shells, reaching about 1.5 inches at the adult stage. Its shell coloration consists of diagnostic dark brown spots on a light-grey dorsal shell surface background.
"The possibility that Naria turdus was introduced as a result of an aquarium trade is very slim, as this species is not one that is collected and traded for that purpose," said Oleinik. "Moreover, there are no reports of this species having been kept in captivity successfully."
Naria turdus is a generalist herbivore, apparently capable of survival on a wide variety of food items. The species thrives on a variety of habitats including coral reefs in its native range. It is remarkably adaptable and possesses planktonic larva with moderately long development time. Both qualities are important in continuous and successful invasion of the species. 
The specific area around Phil Foster Park, although initially being mostly man-made through dredging of canals and spoil piles, was restored in the 1990s under the guidance of the Southeast Florida Environmental Resources Management. Corals and coral-reef associated organisms grow on hard structures at the Lake Worth Lagoon.
"Given the heightened likelihood of larval settlement in a tropical/sub-tropical habitat in this species, the locality where it was recorded in Florida is hardly accidental," said Oleinik. "Lake Worth Lagoon is Palm Beach County's largest estuary, spanning 20 miles from PGA Boulevard in the north to Boynton Beach Bridge at Ocean Avenue in the south and separated from the Atlantic Ocean by a succession of barrier islands."
Although Naria turdus in the Indian Ocean prefers habitats where live corals are found, this is definitely not the case in the Western Atlantic where very shallow water, rubble and sandy bottom with large rocks seem to be the preferred conditions. Some live corals may occur in the area, but not in any appreciable numbers. 
Food for this herbivorous species is readily available practically anywhere in the Caribbean. It is therefore likely that Naria turdus will continue to spread to every suitable locality.
"There isn't enough available data yet to assess any potential effects of the introduction of Naria turdus on the native Lake Worth Lagoon mollusk population," said Oleinik. "For now, the species can be defined as 'non-indigenous,' rather than 'invasive,' because the exact effects on the local biota are yet unknown. We need more detailed research on the ecology, reproductive and survival strategies of this remarkable species to better understand the dispersal potential and capabilities of marine mollusks species in an ever-changing oceanic realm." 
Report co-authors are José H. Leal, Bailey-Matthews National Shell Museum in Sanibel; Anne DuPont; and Nuch Uthairat.
-FAU-