Venture for Athletes Wins FAU Business Pitch Competition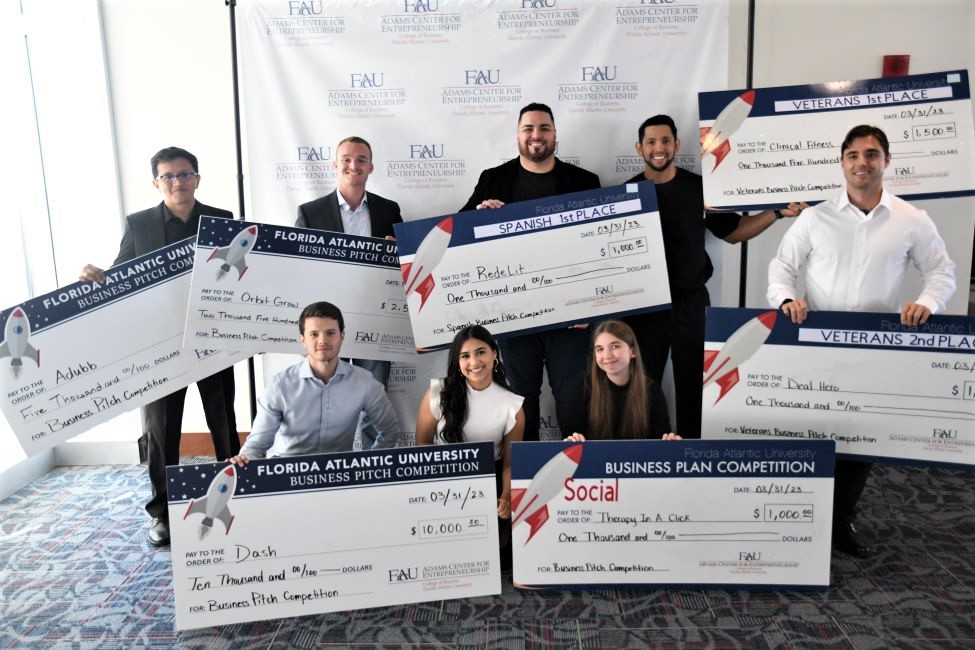 Winners of the 2023 business pitch competition
---
A new company using sensor technology to help athletes perform better won the $10,000 first prize in the 15th annual Business Pitch Competition sponsored by Florida Atlantic University's College of Business and the Adams Center for Entrepreneurship. Dash, founded by FAU student Juan Fortich, develops small wearable pods that allow athletes to be healthier and maximize performance by improving their form in real time.
The runner-up was aDubb, founded by Yherzon Chura Ruiz, who won $5,000. Ruiz's venture develops technology capable of providing near-instant, real-time on-demand translation and dubbing of video/audio content into multiple languages.
The third-place finisher was Jake Pearman's Orbit Grow. The company provides low-cost solutions for agricultural research across multiple environments. Pearman won $2,500.
FAU sponsors the competition to provide seed money to aspiring entrepreneurs. For the first time, organizers expanded the finalists from five to 12 student teams and added a Spanish-language track and an additional award for the best social impact pitch.
"This year, the competition was the largest and best we've hosted," said Kevin Cox, Ph.D., associate director of the Adams Center. "We expanded the finalists, given the large number of high-quality applications. The judges agreed that the competitors and pitches were excellent, making it especially difficult to select the winners."
Jose Matta, founder of Clinical Fitness, won the Veterans competition and $1,500 with his company that provides in-home physical therapy. The runner-up was Eric Ducharme, founder of Deal Hero, a company that develops a comprehensive platform and associated database that aggregates specials and discounts offered to veterans and first responders. He won $1,000.
There was a tie for the best social impact. Therapy in a Click, founded by Lauren Reynolds, aims to provide students with free telemental health support from a licensed professional. Ashley Melgar's venture, Ash & Wick Co., strives to make a positive impact on society by empowering individuals with intellectual and developmental disabilities through employment opportunities. Reynolds and Melgar each won $1,000.
The three Spanish-language winners were community members who previously attended FAU's Spanish-language Entrepreneurship Boot Camp.
Carlos Irizarry and Sarinette Caraballo won the $1,000 first prize with their patent-pending, online-learning venture RedeLit that teaches those ages 15 and older how to read and write in a fun way.
Second place and $500 went to Patricia Luciano and her team for Kastaco, an app that helps connect producers with talent by offering casting calls online via cell phones. Maria Monroy and Hector Castillo took third place and $250 with Experta Elite, an e-learning platform geared toward Spanish-speaking women looking for leadership positions in different industries.
"This expanded competition was an incredible undertaking," said Roland Kidwell, Ph.D., director of the Adams Center. "Kevin and his staff, along with all the volunteers, did a wonderful job coordinating this unprecedented event."
-FAU-