Nation's Newest Physicians Receive M.D. Degrees at FAU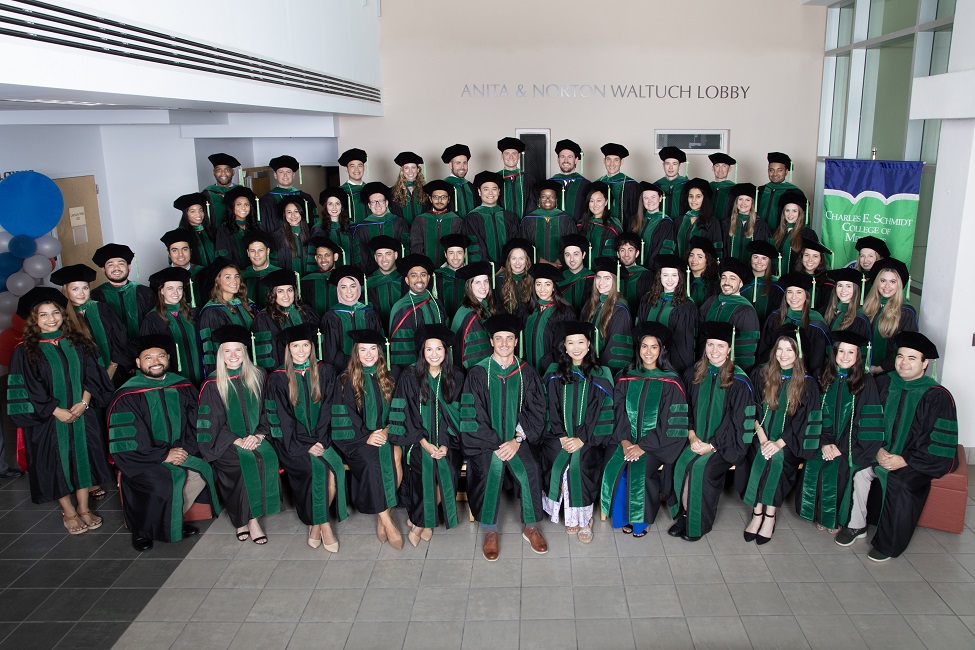 FAU Schmidt College of Medicine's class of 2023. (Photo by Gina Fontana)
---
Sixty-four members of the class of 2023 are among the nation's newest physicians. Florida Atlantic University's Schmidt College of Medicine held its ninth commencement ceremony today in the Carole and Barry Kaye Auditorium . Family, friends, faculty and other guests celebrated this long-anticipated day as graduates walked across the stage to be "hooded" – a symbolic rite of passage from one generation of physicians to the next – and to receive their Doctor of Medicine (M.D.) degrees. 
With Florida expected to be short nearly 18,000 physicians by the year 2035, the event was welcoming news for the state's public health. Last month, during Match Day, all 64 members of the class of 2023 matched for residency programs, which are required for physicians to become license-eligible (board certified).
"Florida Atlantic University has had some big moments this year, perhaps none bigger than our men's basketball team making it to the Final Four during March Madness, and of course, our commencement ceremony today," said Julie G. Pilitsis, M.D., Ph.D., dean and vice president of medical affairs, in FAU's Schmidt College of Medicine. "Watching the FAU Owls, we witnessed teamwork both on and off court. Medicine is the ultimate team sport where doctors, nurses, allied health professionals, engineers and technology and research come together to accomplish a shared goal: ensuring that every patient receives the best care possible. Class of 2023, you have set the bar high with arguably the best residency match we have seen in the history of our college, and we are incredibly proud of you. Congratulations FAU Med Owls on your continued success and your unrivaled passion for teamwork."
In line with the spirit of teamwork, this year's keynote address was delivered by American speed skater Brittany Bowe, an FAU alumna, three-time Olympian and two-time Olympic medalist. Bowe gave up her 500-meter Olympic spot at the 2022 Winter Olympic Games in Beijing, China, for teammate Erin Jackson. This was considered one of the most selfless acts in Olympic history. During the commencement ceremony, Bowe shared her experiences both on and off the ice inspiring the next generation of physicians as well as the audience.   
Among this year's class of 2023 are the first two medical students from the FAU High School Med Direct Program: Sarah Palumbo and Nadia Sial. At age 24, they are the youngest members of the class. They both completed a B.S. degree in neuroscience and behavior at age 18. Palumbo will be staying at the FAU Schmidt College of Medicine for a residency in internal medicine, and Sial will be heading to Yale - New Haven Hospital in Connecticut for a residency in neurology. 
Cody Jackson, Ph.D., FAU's first M.D./Ph.D. dual-degree student, also is among the class of 2023. His research career has focused on virology and immunology, and he will be heading to Oregon Health & Science University for a residency in internal medicine. 
"Class of 2023, you are among the best and the brightest in the nation and we truly admire your extraordinary accomplishments during your journey to become competent and humanistic physicians," said Sarah K. Wood, M.D., vice dean for medical education, interim chair, Department of Women's and Children's Health, and a professor of pediatrics, in FAU's Schmidt College of Medicine. "You are well prepared for the many opportunities and challenges you will face during your medical careers, and we have great confidence in your resolve to make the world a better place."
In line with the medical school's mission, 28 percent of the class of 2023 will conduct their residency in Florida, and 38 percent will specialize in primary care including internal medicine, family medicine, and pediatrics.  The class of 2023 also matched in some of the most competitive specialties including plastic surgery, psychiatry, orthopedic surgery, dermatology, neurological surgery, ophthalmology, among others.
"You have worked very hard to get to this point and we are so excited and proud to see you cross the finish line of medical school today as you embark on your next journey through residency," said Jennifer Caceres, M.D., senior associate dean for student affairs and admissions and an associate professor, in FAU's Schmidt College of Medicine. "You have been exceptional medical students, as evidenced by 80 percent of the class receiving student scholarships, and you will be exceptional physicians. Congratulations class of 2023." 
Among the various Florida institutions where the class of 2023 placed are FAU's Schmidt College of Medicine; Memorial Healthcare System; University of Miami/Jackson Health System; University of South Florida Morsani College of Medicine; University of Miami Miller School of Medicine/Holy Cross; University of Florida College of Medicine – Shands Hospital; Cleveland Clinic Florida; Bayfront Medical Center; HCA Healthcare East Florida Division GME; and Orlando Health.
The class of 2023 also placed in several top institutions nationally, including Boston Children's Hospital; New York-Presbyterian/Columbia University Medical Center in New York; Yale – New Haven Hospital; University of Chicago Medical Center; Children's Hospital Los Angeles; Hospital of the University of Pennsylvania; and Brown University in Rhode Island.
Following the graduation ceremony, the class of 2023 and guests enjoyed a special reception in the Live Oak Pavilion.
-FAU-