FAU Receives $11.5 Million Gift to Combat Life-Threatening Illness
The most common localized form of amyloidosis, which is seen significantly more often, is in the brain.
---
Currently, there is no cure for amyloidosis, a life-threatening disease that can be present throughout the body, including the heart, kidneys, liver and brain. The most common localized form of amyloidosis, which is seen significantly more often, is in the brain. Cerebral amyloidosis, when symptomatic, usually manifests in one of two ways: in Alzheimer's disease and related dementias and in brain bleeds, which have consequences such as a stroke.
Because amyloidosis does not affect a specific organ, unraveling the underlying cause of amyloid fibril creation – a hallmark of this disease – is complex and challenging. 
A monumental $11.5 million gift from Boca Raton philanthropists Ann and John Wood of the FairfaxWood Scholarship Foundation, will enable Florida Atlantic University's Charles E. Schmidt College of Medicine to create a game-changing infrastructure that will combat amyloidosis using a collaborative, whole-body approach.
This transformational gift will establish the FairfaxWood Health & Innovation Technology Initiative, which will focus on the FAU Amyloidosis Project. The initiative will be built on a collaboration model comprising clinicians, researchers and world-class institutes. The multi-disciplinary team will work collectively to uncover the root causes of the formation of amyloid fibrils throughout the body, including the brain, which can be difficult to treat.
Harnessing the power of artificial intelligence and cutting-edge data science, the initiative will de-silo single organ-focused researchers and clinicians who will conduct research to seek treatments and ultimately find a cure for amyloidosis. In the distant horizon, the unique infrastructure created through this initiative could evolve into a permanent research resource to provide opportunities for vital work on other devastating illnesses.
"We are eternally grateful to Ann and John Wood for their vision, generosity and continued support of our medical school through this extraordinary gift," said FAU President Stacy Volnick. "The FairfaxWood Health & Innovation Technology Initiative will transform the way our researchers and clinicians study and treat amyloidosis and other serious medical conditions that require a synergistic approach to improve health and quality of life."
Boca Raton philanthropists Ann and John Wood of the FairfaxWood Scholarship Foundation.
The $11.5 million gift from the Wood family marks their fourth contribution to FAU's College of Medicine and follows a $28 million scholarship gift in 2022, in memory of their son Robert A. Wood, to support medical education and to create the opportunity for debt-free tuition for aspiring physicians.
"Philanthropy has an increasingly important role in advancing science and supporting vital research initiatives that have implications for people not just locally but across the globe, especially when it involves an illness or condition that is complex, multifactorial and difficult to treat," said Ann and John Wood. "Amyloidosis in particular, is a disease that has personally impacted our family, and why we decided to invest in this initiative to usher in a new era to treat this disease, hopefully find a cure, and most importantly, provide patients with hope."  
An integral component of the current Wood gift is the establishment of the inaugural, endowed "FairfaxWood Chair of Clinical Neurosciences," who will direct "discovery to cure" initiatives for amyloidosis, and in the future, other identified complex and severe disorders.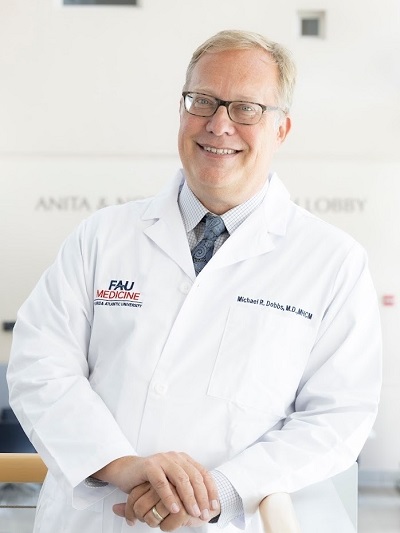 Michael R. Dobbs, M.D., has been named the inaugural chair to oversee research, faculty and programs within the medical school's newly created Clinical Neurosciences Department. As endowed chair, he will spearhead external outreach to build collaborations to identify leaders across the amyloidosis and related diseases spectrum.
"I am both honored and excited to have been selected as the first endowed FairfaxWood Chair of Clinical Neurosciences," said Dobbs. "As chair, I will work with a team of esteemed researchers and clinicians to gain a deeper understanding of the cause of amyloid fibril creation and how to prevent this amyloid buildup using medical mediations and discovering a means to dissolve existing amyloid fibril deposits." 
Dobbs, an expert in vascular neurology, served most recently as professor and chair of neurology and vice dean of clinical affairs at the University of Texas Rio Grande Valley (UTRGV) School of Medicine, where he also served as chief medical officer of their clinical enterprise. Prior to UTRGV, Dobbs served most recently as associate dean of statewide and clinical initiatives at the University of Kentucky College of Medicine and as associate chief medical officer of UK HealthCare, where he led the hospital to become one of the busiest stroke centers in the U.S. while also building a 34 hospital Stroke Network that continues to grow and bring life-saving treatments to underserved regions in Appalachia. Dobbs also has been an institutional principal investigator on multiple clinical trials and has published numerous original research in stroke outcomes and other topics.
"The unique infrastructure that we are establishing will help us to learn about brain amyloid and shared attributes in other organs affected by amyloidosis," said Julie G. Pilitsis, M.D., Ph.D., a neurosurgeon, researcher and dean and vice president for medical affairs, FAU College of Medicine. "To accomplish this, we will ensure that the best minds working on the brain collaborate with the best minds working on other organ systems. Through the FAU Amyloidosis Project, we will utilize innovative technologies such as imaging and nanotechnology, leverage medical research databases, employ burgeoning AI tools, and, importantly, share this information broadly." 
John and Ann Wood relocated to Boca Raton in 1983 having spent 18 years in the prestressed concrete business, building bridges, piers and cruise ship terminals throughout the Caribbean. They continued to operate the firm from Boca Raton until its sale in 2005. John is a United States Navy veteran and an engineering graduate of NYU, while Ann was a British citizen, raised in Trinidad and medically trained in London, England.
-FAU-